Ex-NFL quarterback Donovan McNabb is claiming that his Twitter account was hacked after he got some flack for posting a risque link about adult film star Mia Khalifa.
"Mia Khalifa's Instagram is jaw dropping," the tweet read alongside the provocative photos of the actress and a link to the article.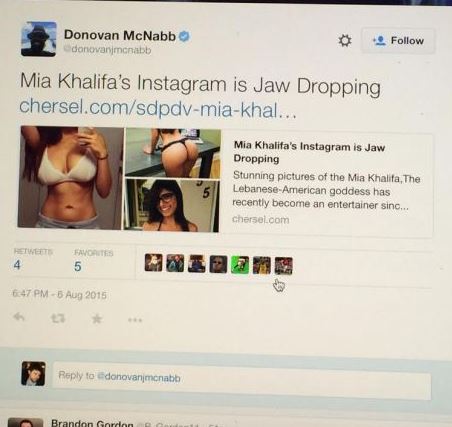 Apparently McNabb didn't realize that being an ex-NFL player meant that everything he tweets will be scrutinized by the public.
He took to twitter to try and clear up the situation, "I apologize for the messages sent out from my account yesterday. I was unfortunately hacked temporarily," he wrote.
All this comes after Khalifa recently accused NFL player Duke Williams of flirting with her.
Khalifa posted screenshots of the private messages the Buffalo Bills star had sent her back in February of this year. He had apparently made several attempts at getting in touch wit her since then.
After she ignored a string of his messages, Khalifa finally responded with: "I am in Miami. With my boyfriend. Who's d**k game is A1".
Warning: Trespassers in my DM's will be shot and hung out to dry in public. pic.twitter.com/aPUGkmooat

— Mia Khalifa (@miakhalifa) July 12, 2015
Duke defended himself saying that the invite was innocuous and was not intended as a hook-up.
— Duke Williams (@Duke27_) July 14, 2015
We can't really blame them, Mia Khalifa is hot as hell.
via IBT