A man who recently visited the Estes Park's Stanley Hotel – the one which inspired "The Shining" by Stephen King – captured a ghostly image on camera when he attempted to take a panoramic photo of the hotel's lobby.
Henry Yau claims he does not remember there being anyone standing on the lobby stairs as he took the photo. In fact, Yau says he did not notice the figure standing near the top of the stairwell until the next day as he reviewed his photographs.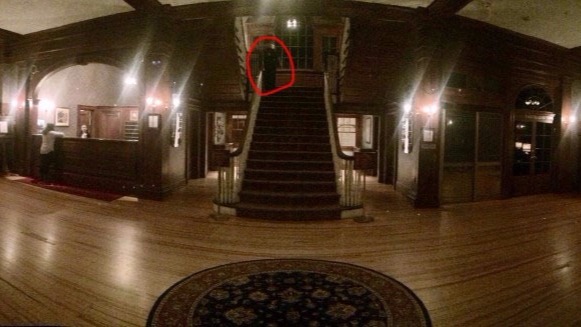 Stephen King was allegedly inspired to write "The Shining" after he and his wife stayed in the Stanley Hotel as the only guests.
Stories by guests implying that the hotel was haunted prompted an investigation by the tv show "Ghost Hunters," who arrived on scene to explore the paranormal events including ghostly figures hiding in hallways and voices of children playing.
According to the hotel's website, the ghosts of  F.O. and Flora Stanley still try to run the business, despite being long dead.
"Flora's antique Steinway can be heard playing in the dead of night, and Mr. Stanley has been captured in photographs surveying the goings-on in the billiards room, once his favorite place," the description reads.